Today was the once-a-year neighborhood yard sale. All the houses on the block. In the U.K. such an event would be called a "meter sale" by the way.  Anyway, my yard sale is always quite popular because I often have $100 golf shirts for $3, and I can be negotiated down to $2. During a break in my customers, I hopped on my new mountain bike and rode to some of the other neighbor's sales.  You know, to check out the competition.  There she was.  A marvelous thing of beauty.  A game-changer.  The Ultimate Putting System With Electric Ball Return. Feast your eyes on this splendid item: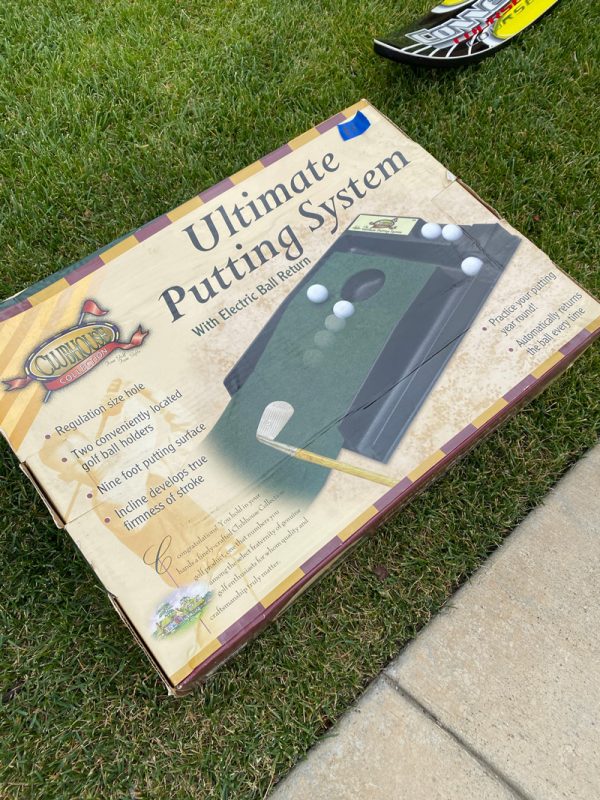 Intriguing
Most intriguing about The Ultimate Putting System is that the club shown on the packaging is not a putter.  Rather it looks to be roughly a 5-iron. The graphics indicate the ball traveling from the 5-iron straight into the hole. It looks as if the intended technique is to lay the 5-iron down on the back of the clubhead and strike the ball with the toe of the club.  I will have to try that.
I also noticed that the 5-iron appears to have a hickory shaft. If I were to purchase The Ultimate Putting System I would have to visit the nearest golf store to try to find an old 5-iron with a hickory shaft.
Negotiation Failed
In true garage sale fashion, I tried not to act too interested when inquiring with my neighbor about the pricing. "Oh how much for this?" I inquired.  "One dollar," replied the neighbor.  Now we all know to never accept the first quote at a yard sale.  It's common knowledge. So I did what any decent negotiator would do and offered him fifty cents. Well, I thought I was a master negotiator, but astonishingly my fair offer was not accepted.  Not being one to "give in" I acted as if I didn't care much and told the neighbor, "well, I probably don't need it anyway."
So there went my opportunity to experience The Ultimate Putting System, at least assuming I would have been able to find hickory shafted 5-iron to use with it.
---
---